Wing Foil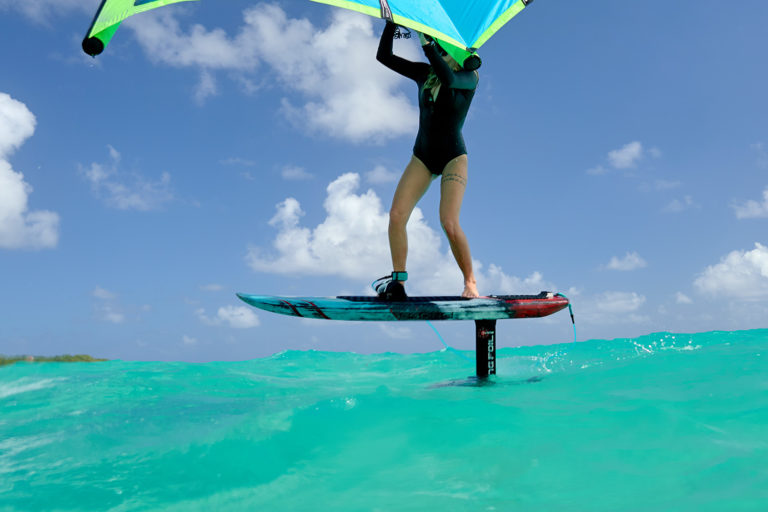 Wing Foiling is the latest-born board sport : it consists in managing a wing not attached to the board and carried with two hands while standing on a hydrofoil mounted on a short stand up paddle board. This a cross-over discipline between Windfoiling, Kite Foiling and SUP Foiling.
The major interest of Wing Foiling is to be able to move with as much freedom as possible on the water by using both the energy of the wind and swells.
The hydrofoil allows to take-off over the water and to fly over the surface. Wing Foiling is practiced on a short but wide and thick stand up paddle board to allow its rider to be stable and easily stand up on the board. To begin at Wing Foil allows to experience new riding feelings but also to navigate in a free and easy way on any body of water while keeping a relatively simple to use and to mount gear. It can be practiced with any wind direction but will be more interesting in downwind with a sidewind. It is also possible to practice Wing Foiling in the waves and to use the lift of the wing to get back to the line-up and connect the waves.
We recommend to learn Wing Foiling in average wind conditions on a spot that is not exposed to the swell (between 15 and 20 knots of wind). It is easier to begin with a sidewind (sideshore) to avoid to get pushed aways from the coast (offshore wind) or to be sent back all the time to the shore (onshore wind).
It is advised to carefully select the spot to avoid floating seaweeds or any other floating object that can stop and/or damage your foil while flying. We also recommend to select a spot that is shaped like a bay. This ways if you get too far away from your starting point you can still easily come back walking with your gear. Finally, it is better to learn with a specific water depth : shallow enough so your feet can touch the bottom to easily get on the board but deep enough for the hydrofoil to not touch the bottom. It is possible once you are a confirmed wing foiler of a standard bodytype – let's say 80 kg – to practice Wing Foiling from 8-10 knots to 35+ knots.
Er det svært at lære at Wingsurfe ?
Ikke nødvendigvis. Som skiing eller kitesurfing er det mere teknik en styrke. Det lykkes for størstedelen af mine elever når de er motiverede og tager den tid der skal til.
Jeg dyrker windsurf eller Kitesurf. Vil det hjælpe mig med at lære at wingsurfing?
Ja, lidt. Enhver brætsport vil hjælpe dig med at kontrollere dit bræt. Hvis du vide lidt om vinden er det endnu bedre.
Hvor foregår kurserne ?
Det afhænger af vindens retning. Man kan rundt regnet vide det 2 dage før ifølge vejrudsigten.
Hvor mødes vi på dagen ?
Jeg sender dig en GPS link.
Indenfor hvilken tidsramme ?
Snarere om eftermiddagen og i weekenderne.
Hvad gør vi hvis vejret ikke er godt nok til at wingsurf ?
Jeg kontakter dig så hurtigt som for at genprogrammerer kurset.
Hvad gør man hvis vinden lægge sig midt i kurset ?
Man venter... Hvis det ikke blive bedre programmer vi et nyt gratis kursus.
Er wingsurf farligt ?
Ikke mere end at cykle.
Er alle instruktører forsikrede og kvalificerede ?
Jeg ved det ikke hvad angår de andre, men for mig er det affirmativt !
Hvor lang tid tager det at lære at Wingsurf?
Alle lærer på deres egen rytme men generelt er det nok med nogle dage for at lære grundlaget og selv fortsætte stille og roligt. Navigere nemt og krydse frem og tilbage behøver lidt mere tid men kan blive lært i 2 til 3 seancer. Derefter går det hurtigt fremad.
Jeg et 60 år gammel, kan jeg stadigvæk lære at kitesurfe ?
Det tager bare lidt længere tid.
Hvad skal jeg have med til kurset ?
Du skal have en våddragt og surf støvler. Du får en hjelm og en redningsvest. Du skal bare lige huske at få noget varmt sportstøj med fordi det kan være koldt på stranden, selv en solskinsdag, på grund af vinden, Husk også at tage dine solcreme, et håndklæde og lidt at spise.
Kan jeg købe et gavekort ?
Ja, det gør vi. Ask for it!
Hvilke er aflysnings vilkårene ?
se Salgsvilkår
449dkk/1 time
Minimum 2 timer per session
Udlejning af våddragt 90dkk/session
Udlejning af surf støvler 49dkk/session