Wing Foil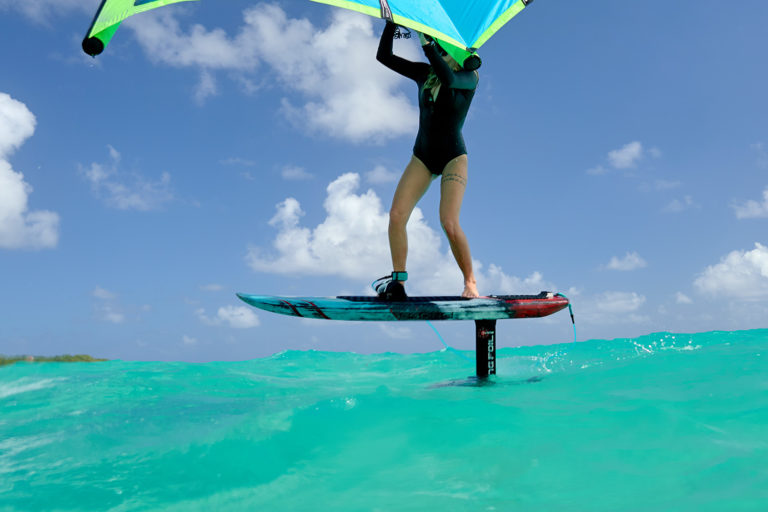 Wing Foiling is the latest-born board sport : it consists in managing a wing not attached to the board and carried with two hands while standing on a hydrofoil mounted on a short stand up paddle board. This a cross-over discipline between Windfoiling, Kite Foiling and SUP Foiling.
The major interest of Wing Foiling is to be able to move with as much freedom as possible on the water by using both the energy of the wind and swells.
The hydrofoil allows to take-off over the water and to fly over the surface. Wing Foiling is practiced on a short but wide and thick stand up paddle board to allow its rider to be stable and easily stand up on the board. To begin at Wing Foil allows to experience new riding feelings but also to navigate in a free and easy way on any body of water while keeping a relatively simple to use and to mount gear. It can be practiced with any wind direction but will be more interesting in downwind with a sidewind. It is also possible to practice Wing Foiling in the waves and to use the lift of the wing to get back to the line-up and connect the waves.
We recommend to learn Wing Foiling in average wind conditions on a spot that is not exposed to the swell (between 15 and 20 knots of wind). It is easier to begin with a sidewind (sideshore) to avoid to get pushed aways from the coast (offshore wind) or to be sent back all the time to the shore (onshore wind).
It is advised to carefully select the spot to avoid floating seaweeds or any other floating object that can stop and/or damage your foil while flying. We also recommend to select a spot that is shaped like a bay. This ways if you get too far away from your starting point you can still easily come back walking with your gear. Finally, it is better to learn with a specific water depth : shallow enough so your feet can touch the bottom to easily get on the board but deep enough for the hydrofoil to not touch the bottom. It is possible once you are a confirmed wing foiler of a standard bodytype – let's say 80 kg – to practice Wing Foiling from 8-10 knots to 35+ knots.
Is Wingsurfing hard to learn?
Not necessarily. Like skiing, technique is a lot more important that brute strength. Most students are successful if they're dedicated and committed. It's no different than learning any other skill in life. Time and commitment.
Will my windsurfing or kitesurfing skills help me learn wingsurfing?
Yes, a little.  Any board sports will help you with board control. Knowing a bit about the wind also helps.
Where do the lessons happen?
It depends on the wind direction. We can decide where to go approximatively two days in advance depending on the weather-forecasts.
Where do we meet on the day of the lesson?
I'll send you a GPS link.
What are your hours?
Mostly weekends and afternoons.
What if the conditions aren't suitable on the day of my lesson?
I will contact you as soon as possible if the conditions are forecast to be unsuitable and re-schedule the lesson for a later date.
What happens if the wind stops blowing during a lesson?
We'll wait. If it doesn't get better, your lesson will be rescheduled. There will be no charge.
Is Wingsurfing dangerous?
No more than riding a bicycle.
Are all instructors insured and qualified?
I don't know about them, but I am!
How long does it take to learn to Wingsurf?
Everybody learns the sports at different rates, but we generally find that a few days is enough time to get the basics to continue comfortably practicing. Riding confidently back and forth takes a little more time, but comes quickly over your next 2 or 3 sessions and then progression is very fast.
I'm 60 years old, can I still learn?
It will take a bit longer but you'll manage…
What do I need to bring?
You need a wetsuit and surf boots; all students are given buoyancy aids and helmet as well as the wingsurfing equipment but please bring some warm clothes as it's almost always windy and can be cool even on a sunny day. Also sun cream and a towel plus food, drink or snacks you may want.
Do you offer gift vouchers?
Yes, I offer gift vouchers for all the courses I run. Ask for it !
What is the cancellation policy?
See the General Terms of Sale
449dkk/1 hour
Minimum 2hours per session
Wetsuit rental 90dkk/session
Boots rental 49dkk/session